AGGGGHHHH !! They look so nice together.
May 4th, 2008 (11:51 pm)
current mood: curious
I didn't know that they were going to be on the Wink Up cover, so I was surprised when i walked into the book store and found this, staring at me: (which I grabbed without hesitation) . 20th anniversary issue!




There is even a pin-up inside with all the members 2-shot photos....and an interview. Apparently the last time they appeared on the cover of wink up was 2 years ago, when they all had their Kiiroi Namida hair.

and the continuation of the CaptXKazuXChinen triangle in the message board:

This time, Capt's msg to KAZU:

'I realise something after some time, when you are not around, and I am sort of spacing out, i find myself natually thinking about you. when you are not around, I cannot go on. Kazu, I love you!'

And An-an too, I thought it would be out wednesday, but its out today.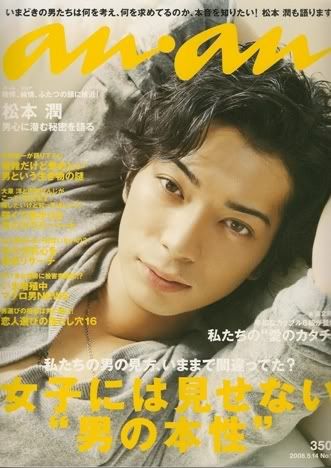 ^ ^ ;

$$$$$ ----- > Flying away---->>