Aiba-chan and his spring encounters
May 8th, 2006 (12:28 am)
current mood: Procrastinating
SMAP wore black suits on MS. I liked it better then the red suits they wore on CDTV and SXS. Reminded me too much of Arashi in the Wish suits.
Kimura-kun is looking pretty good in his long hair style.... great that he's not wearing the sunglasses anymore. His sinus problem has been cured! but I wish he could go back to his MIJ hairstyle. That made him look years younger. (they can can the flowers on their suits tho. ) XD


男前だね。。キムラくん。。。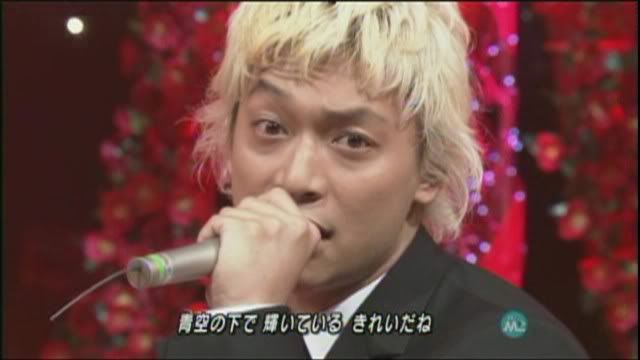 He's cute. Like a teddy bear.... ^ ^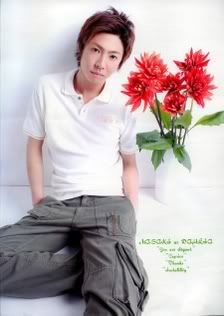 scan thanks to
seraphik


Hot springs, snowboard, harvesting strawberries, oden and elephants!
I went into the onsen with ri-da-. I was very nervous.
He went to Thailand, he went to the hot spring, Aiba-chan's always flying about. Everywhere and always, there is something to be touched and deeply moved… There are a lot of heatwarming episodes that can only be associated with Aiba-chan.
Spring Encounter No. 1
My worries over just the two of us (Aiba and Ri-da-) going into the onsen alone.
When I was on location with ri-da-, I went into the onsen with him. It was a great feeling to go into the onsen, but I felt a little strange, going into the onsen with just the two of us. Somehow, I felt a little embarrassed. Firstly, I was fretting over whether or not I should cover up the "important part". If the five of us were to go into the onsen, I will not cover up. I will take off all my clothes and walk, just like that, into the bathtub. But if there are just the two of us, then the mood is not there right? Therefore, I was wondering what I should do and so I waited until I saw the other party and then, I took my towel and with darting glances (at Ri-da-), I alternately took it off and put it on (laughs). So, the result was I covered up.  So, in spite of there being the two of us, we couldn't help but going "wa!"like this.
Spring Encounter No. 2
This year, I planned to go snowboarding…
Some time back, I was thinking of going snowboarding. This year, the pollen is also lesser, and therefore isn't it an absolutely good time to go? Actually, I have bitter memories of snowboarding. When I was in Secondary 1, I fell down whilst snowboarding with friends, and suffered a compound fracture on my fingers, and had to be admitted into the hospital as an emergency. So, from then on, although I have done a little snowboarding for photoshoots, I have not made a personal trip in private to snowboard as much as I want. But this year, I have am thinking seriously of going snowboarding, and I called up a few of my friends, but the reality was that in the end, it didn't happen. Is it because I didn't have enough leadership power?
Spring Encounter No. 3
Unexpectedly, I had a hard time picking strawberries during a location shoot
I was on location again with ri-da- and we were picking strawberries. I went in high spirits, with a full intention of eating my fill of strawberries, but when I really counted, I ate only about 10 strawberries. If I was not mistaken, the entry price was 1,200 yen and therefore I wanted to eat 2 boxes of strawberries but in the end I couldn't. At first I ate it as it was, next, I dipped it in milk, cos that way, you probably will not get sick of eating strawberries but for me, I don't eat strawberries with milk, as a principle. I like the taste of milk, and therefore I like to drink it as it is, and I can't dip strawberries in milk and drink it. Therefore, in my case, I knew that I could not pick strawberries right from the start. (laughs).
Spring Encounter No. 4
Can I forget the season where I had my first oden experience?

Yesterday, Shimura (Ken) san brought me to eat oden. Until now, to me, oden is those stuff you usually buy at the convenience store. So when I went to a shop selling oden specially, I was filled with deep emotion. There were all kinds of stuff that could be found there there. Especially, I liked the asparagus oden. They didn't have it yesterday but depending on the season, they even have soft roe in the oden. As it was my first time eating at the oden store, I forgot to order my all time oden favourite, the radish (daikon). At the end, they served an egg on rice and that was delicious!! It seemed that the egg as well as the soy sauce was special, and it was different from eating it at home. Even tho the seasons are getting warmer, in the future if I think about when I had been awakened to the world of oden, I think it would have been today.
Spring Encounter No. 5
It was shocking that an elephant could walk normally on public roads.
I went to Thailand for a special location shoot of Tensai Shimura Doubutsuen. I came into contact with the usual ferocious animals like the crocodile. But what surprised me in Thailand was that elephants could walk like normal on the streets. That was pretty shocking to me. There were people who were selling food for the elephants on the roadside. If you buy that, you can feed the elephants, but I found it unusual that you could just feed the elephants on the streets. While we were there, we had Thai Chinese food. It was a bit Thai in flavour as there were some spices in it, but the menu was roughly the same as that you would find in a Chinese restaurant in Japan. The typical dishes like chilli prawns could be found there too.
QUESTION
Er guys........ I seem to sort of remember vaguely when he was in the onsen with ri-da-.. when was that? Was it a mago mago episode? Anyone can enlighten me? I wanna see that one again.

Here is that Na Na Na! song that's only in the regular edition of the Kitto Daijyoubu single. I ripped it from Aiba-chan's radio show on Friday. He only played 11/2 mins or so. Haven't heard the rest so I dun know if anyone else has played it longer than this. It's got a carribean ring to it.. (Actually I prefer it to Kitto Daijyoubu)

http://www.megaupload.com/?d=ZBXK70VP